Gift Ideas for Grandpa: Celebrate His Wisdom and Love with Perfect Tokens
Grandfathers are the pillars of wisdom and affection in our families. They provide a wealth of experience, stories, and life lessons that shape our upbringing. In return, it's essential to show our appreciation and love by selecting thoughtful gifts that convey our gratitude. In this article, we'll explore a plethora of gift ideas that cater to the diverse interests and personalities of grandfathers. Whether your grandpa is a tech enthusiast, an outdoor adventurer, a culinary connoisseur, or a traditionalist at heart, you'll find inspiration here to make him feel cherished.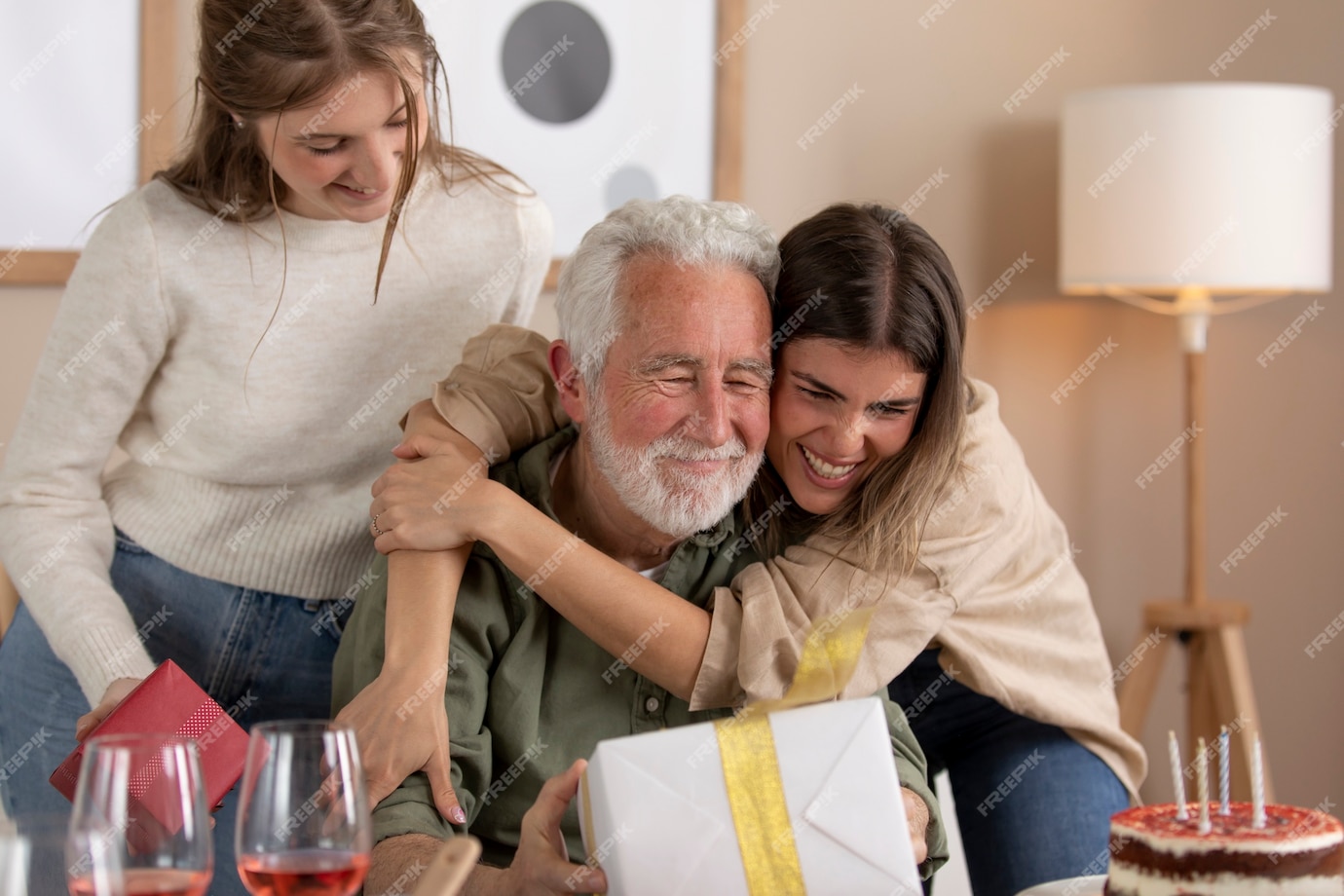 Types of Grandfathers
1. The  Tech -Savvy Grandpa
In today's digital age, some grandpas have embraced technology with open arms. They may be active on social media, enjoy video calls with their  grandchildren , or even have their own  YouTube channel. To delight this tech-savvy grandpa, consider gifts that cater to his digital interests:
Tablets and E-readers:These devices allow him to read  e-books , watch videos, or stay connected with loved ones.
Smart Devices:Consider smart speakers, digital assistants, or even a  smartwatch to simplify daily tasks.
Noise-Canceling  Headphones :These can enhance his audio experience, whether he's enjoying music,  audiobooks , or video calls.
2. The Outdoorsy Grandpa
Some grandfathers have an insatiable love for the great  outdoors . They find solace in nature, whether it's hiking through forests, fishing by the lake, or camping under the stars. If your grandpa falls into this category, these gift ideas will resonate with him:
Camping Gear: High-quality tents, sleeping bags, or camping cookware for his next adventure.
Hiking Equipment:Durable hiking boots, trekking poles, or a versatile backpack.
Fishing Gear: A new fishing rod, tackle box, or accessories to improve his fishing experience.
3. The Foodie Grandpa
Food is a universal love language, and some grandfathers are true food enthusiasts. They relish the art of  cooking , appreciate gourmet flavors, and cherish shared meals with family. To cater to their culinary passions, consider these gift ideas:
Gourmet Food Gifts: Gift baskets filled with fine  cheeses ,  chocolates , or artisanal snacks.
Cooking Classes:Enroll him in cooking classes where he can learn new culinary skills.
Subscription to a Culinary Magazine: Keep his passion alive with monthly culinary inspiration.
4. The Classic Grandpa
Classic grandfathers embody timeless values and traditions. They appreciate the beauty of well-crafted items and find joy in the elegance of the past. When selecting gifts for the classic grandpa, think of items that exude timeless charm:
Wristwatches: A sophisticated  wristwatch can be both a practical accessory and a symbol of enduring elegance.
Ties and Cufflinks:High-quality ties and cufflinks can elevate his formal attire.
Personalized Photo Frames:Capture cherished moments with personalized frames that add a sentimental touch to his home.
Personalization
Adding a personal touch to your gift elevates it from ordinary to extraordinary. Personalized gifts show that you've put thought and effort into making the recipient feel special. Consider these personalized gift ideas:
Engraved Jewelry: A necklace, ring, or bracelet engraved with the names or initials of his grandchildren.
Custom Family Tree Artwork:Create a beautiful family tree art piece that showcases the names and birthdates of family members.
Monogrammed Items: Personalized towels, robes, or glassware with his initials.
Traditional Gifts
Sometimes, the classics never go out of style. Traditional gifts hold a special place in the hearts of many grandfathers. Here are some timeless gift ideas that can evoke nostalgia and sentiment:
A Classic Wristwatch:A well-crafted watch is a symbol of timeless style and practicality.
Ties and Cufflinks: These accessories can add a touch of sophistication to his wardrobe.
Personalized Photo Frames: Display cherished family memories with frames that include personalized messages or captions.
Hobby-Specific Gifts
Understanding your grandpa's hobbies and interests is a fantastic way to find a gift that truly resonates with him. Here are some gift ideas tailored to common hobbies:
If your grandpa has a green thumb and loves spending time tending to his garden, consider these gifts:
Gardening Tools : High-quality tools, such as pruners or a durable garden hose.
Rare Plant Seeds: Unique plant varieties that can add a touch of rarity to his garden.
Personalized Garden Stone:A custom-engraved garden stone with a special message.
Golfing
For the grandpa who enjoys hitting the greens, golf-themed gifts are a hole-in-one choice:
High-Quality Golf Clubs:Upgrading his clubs can improve his game and enhance his enjoyment.
Golf Accessories : Golf balls, tees, gloves, or a golf bag with personalized embroidery.
A Round of  Golf : Treat him to a round of golf at his favorite course for a memorable outing.
Fishing
Grandpas who find tranquility by the water will appreciate gifts related to fishing:
A New Fishing Rod:Upgrade his fishing gear with a high-quality rod.
Tackle Box: Organize his fishing gear with a well-designed tackle box.
Guided Fishing Trip:Plan a fishing adventure or hire a guide for a memorable day on the water.
Reading
For grandpas who are avid  readers ,  books and literature-related gifts are ideal:
Classic Literature: Select timeless classics or the works of his favorite authors.
Biographies:Find engaging biographies of historical figures or influential personalities.
Audiobooks:Consider a subscription to an audiobook service, allowing him to enjoy books in a new way.
DIY and Handmade Gifts
Sometimes, the most meaningful gifts are the ones made with love and care. Crafted with your own hands, these gifts carry a personal touch that resonates deeply:
Handmade Cards:Create a heartfelt card with a personal message or  artwork .
Scrapbook: Compile cherished photos, mementos, and notes to create a family scrapbook.
Homemade Coupons:  Craft coupons for activities like gardening together, cooking his favorite meal, or a day of fishing.
For tech-savvy grandpas, modern gadgets and technology can be exciting gifts:
Tablets and E-Readers: These devices offer access to a vast world of digital content, from e-books to streaming services.
Smart Devices: Smart speakers, digital assistants, or even a smartwatch can simplify tasks and enhance convenience.
Noise-Canceling Headphones: These headphones provide a serene audio experience for music, audiobooks, or video calls.
Memory-Making Gifts
Creating lasting memories with your grandpa is a priceless gift that can be cherished for years to come. Consider these memory-making gift ideas:
Special Outing:Plan a memorable day out based on his interests, whether it's a visit to a museum, a nature hike, or attending a sports game together.
Family Photo Session:Schedule a professional family photo session to capture precious moments with your grandpa and the entire family.
Family Tree:Create a family tree with photos and names to celebrate your shared heritage and ancestry.
Subscription Services
Subscription box services offer a unique way to cater to your grandpa's specific interests and keep the joy of receiving gifts alive throughout the year. Here are some subscription ideas:
Gourmet Food Subscription: A monthly box filled with delectable gourmet foods and snacks.
Craft Beer Subscription:If he's a beer enthusiast, a monthly delivery of craft beers can be a delightful surprise.
Health and Wellness
Encouraging health and wellness is a thoughtful way to show your care for your grandpa's well-being. Consider these wellness-related gift ideas:
Fitness Tracker :Help him stay active and monitor his health with a fitness tracker or smartwatch.
Massage Chair : Provide relaxation and comfort with a massage chair that can soothe sore muscles and reduce stress.
Books and Literature
For grandpas who are avid readers, a carefully selected book can be a meaningful gift. Explore these literature-themed ideas:
Classic Literature: Choose from the timeless classics or the works of authors he admires.
Biographies: Find engaging biographies of historical figures or influential personalities.
Audiobooks: Consider a subscription to an audiobook service, allowing him to enjoy books in a new way.
Clothing and Accessories
Comfort and style go hand in hand when it comes to clothing and accessories. These gift ideas offer both:
Cozy Sweaters: Keep him warm and comfortable with a high-quality sweater.
Slippers: Soft and comfortable slippers provide warmth and relaxation.
Stylish Hats: Elevate his wardrobe with a stylish hat that suits his taste.
Personalized Jewelry
Personalized jewelry holds a special place in the hearts of many grandpas. Here are some jewelry gift ideas with a personal touch:
Engraved Necklaces: A necklace featuring a pendant with the names or initials of his grandchildren.
Custom Rings:Create a ring with birthstones or engravings that represent his family.
Bracelets: Personalized bracelets can be a subtle and stylish way to carry family sentiments.
Cooking and Food
If your grandpa has a passion for food and cooking, these culinary-themed gifts will delight his taste buds:
Gourmet Food Gifts: Explore gift baskets filled with premium cheeses, chocolates, and other delicacies.
Kitchen Gadgets: Unique kitchen gadgets or utensils that can enhance his culinary skills.
Cooking Classes:Enroll him in cooking classes or workshops to refine his culinary expertise.
Entertainment
Entertainment gifts can provide your grandpa with enjoyable leisure time. Here are some entertainment-themed gift ideas:
Movie Tickets: Treat him to a night at the movies or a gift card to his favorite cinema.
Concert Tickets: If he enjoys live music, consider tickets to a concert featuring his favorite artists.
Streaming Service Subscription:A subscription to a streaming service can offer hours of entertainment from the comfort of home.
You don't need to spend a fortune to show your grandpa how much you care. Thoughtful and budget-friendly gifts can convey your love just as effectively:
Homemade Coupons:Craft coupons for simple yet meaningful activities, such as a day of gardening, cooking his favorite meal, or a movie night at home.
Framed Family Photos: Select a cherished family photo, frame it beautifully, and write a heartfelt message on the back.
Handwritten Letters: Pour your feelings into a heartfelt letter expressing your love and appreciation.
Gift- Wrapping and Presentation
The presentation of your gift adds an extra layer of anticipation and excitement. Make the moment even more special with these gift-wrapping and presentation tips:
Thoughtful Wrapping: Choose wrapping paper that reflects your grandpa's personality or interests.
Handwritten Note: Include a handwritten note or card with a personal message expressing your love and gratitude.
Creative Presentation: Consider unique ways to present your gift, such as placing it inside a scavenger hunt or puzzle for added fun.
Choosing the perfect gift for your  grandpa is an opportunity to celebrate his presence in your life. Whether you opt for a traditional, tech-savvy, or handmade gift, the key is to select something that aligns with his personality and interests. Your thoughtful gesture will undoubtedly bring joy to his heart and reinforce the strong bond between you.
Gifting your grandpa can be a wonderful way to show your love, appreciation, and respect for him on various occasions throughout the year. Here are some occasions and gift ideas that you can consider:
Birthday:Celebrate your grandpa's birthday with a thoughtful gift. Consider his hobbies and interests when choosing a present. Some ideas include personalized items, a favorite book, a hobby-related gift, or a cozy sweater.
Father's Day :Grandpas are often like second fathers, so Father's Day is an ideal occasion to express your love. Gift him a heartfelt card, a photo album filled with family memories, or a special meal together.
Anniversary: Celebrate your grandparents' wedding  anniversary with a sentimental gift. A framed wedding photo, a personalized plaque, or a romantic dinner reservation for them can be perfect choices.
Christmas :Christmas is a time for giving, and you can find numerous gifts that cater to your grandpa's preferences. Consider items like a warm winter jacket, a custom calendar featuring family photos, or a nostalgic gift that reminds him of his youth.
Grandparents' Day : Grandparents' Day (usually the first Sunday in September) is a day dedicated to honoring grandparents. Send a heartfelt card, a bouquet of flowers, or a gift that reflects his personality and interests.
Retirement :If your grandpa is retiring, consider gifts that symbolize relaxation and enjoyment. A hammock, a golf club membership, a fishing trip, or a cozy retirement book can be great options.
Thanksgiving : Show your gratitude to your grandpa on Thanksgiving with a heartfelt thank-you card or a personalized gift that reminds him of the family's appreciation.
Easter :For  Easter , consider giving your grandpa a basket filled with his favorite treats, such as chocolates, snacks, or a bottle of wine. You can also include a thoughtful Easter card.
Get Well Soon : If your grandpa is unwell or recovering from an illness, consider gifts that provide comfort and support, such as a soft blanket, a puzzle book, or a get-well card filled with warm wishes.
Just Because: Sometimes, the best gifts are given "just because." Surprise your grandpa with a small gift or a visit to brighten his day and show that you're thinking of him.
Family Gatherings:Whenever your family gathers for holidays or special occasions, consider bringing a dish your grandpa loves, or organize a small family event in his honor.
Personalized Gifts: Personalized gifts, such as a custom-made photo album, a family tree, or a monogrammed item, can be meaningful for grandpas who cherish family ties.
Remember that the thought and effort you put into choosing a gift matter more than the price tag. The best gifts for grandpas often come from the heart and reflect the special bond you share with him.
Choosing the perfect gift for your grandpa is more than just a simple gesture; it's an expression of love and appreciation for the wisdom and warmth he's brought into your life. Whether it's his birthday, a special occasion, or just a random day to show your affection, finding a gift that resonates with him is a meaningful way to convey your feelings.
In this article, we embark on a journey to discover the art of gift-giving for grandpas. We'll explore a range of ideas that go beyond the ordinary, helping you select gifts that reflect his personality, interests, and the unique bond you share. Whether your grandpa is a tech enthusiast, a nature lover, or a connoisseur of the finer things in life, we've got you covered with thoughtful and heartwarming gift suggestions. Let's dive into the world of gift-giving and make your grandpa feel truly cherished.
What is a good gift for a grandpa?
Choosing a good gift for your grandpa begins with a deep understanding of his interests, hobbies, and preferences. Tailoring the gift to his unique personality shows that you've put thought into your choice, making it all the more special. If you're uncertain about his specific interests, there are some timeless gift ideas that work wonderfully for many grandpas.
Personalized items, such as a custom photo frame with a cherished family picture or a monogrammed leather wallet, add a personal touch to your gift. Books that align with his reading taste, perhaps a classic novel or a biography of someone he admires, can be a source of enjoyment and intellectual stimulation. Keepsakes, like a family tree chart or a handcrafted piece of art, can hold sentimental value and serve as a lasting reminder of your love.
These general gift ideas provide a starting point, but remember that the best gifts are those that resonate with your grandpa's unique personality and bring a smile to his face.
How do I find the perfect gift for someone?
Finding the perfect gift for someone is an art that revolves around understanding their likes and dislikes. Start by paying close attention to their conversations and interests. Active listening can unveil hints about their desires or needs. Observe their hobbies and passions, as these often lead to gift ideas that align with their true self.
Consider their personality, lifestyle, and any recent life changes that might influence their preferences. Think about what would enhance their daily routine or bring joy to their life. It's also helpful to ask for suggestions from close friends or family members who might have insights. Ultimately, a thoughtful gift is one that reflects the recipient's personality, making them feel truly appreciated and understood.
What to gift grandparents for luxury?
When it comes to pampering your grandpa with a touch of luxury, there are various exceptional gifts that can elevate his sense of well-being and indulgence.
Consider gifting him a high-quality watch, a timeless accessory that combines elegance and functionality. A well-crafted timepiece not only adds a touch of sophistication to his attire but also serves as a lasting symbol of your appreciation.
Alternatively, spa vouchers offer a rejuvenating escape from the everyday hustle and bustle. A day of relaxation and pampering at a reputable spa can provide him with much-needed tranquility and self-care.
For a culinary connoisseur, a gourmet dining experience at a fine restaurant is an excellent choice. Opt for a restaurant with a stellar reputation, where he can savor exquisite dishes and create cherished memories.
By choosing one of these luxury gifts, you'll not only express your love but also grant your grandpa the opportunity to relish life's finer pleasures.
In conclusion, selecting the perfect gift for your grandpa is a heartfelt endeavor that revolves around understanding his unique interests and preferences. Thoughtful gift-giving goes beyond the material, serving as a genuine expression of love and gratitude. We've explored a variety of ideas, from personalized items to luxury indulgences, all designed to make your grandpa feel cherished and valued.
Remember, the best gift is one that reflects his personality, adding that special touch to your bond. In the end, it's not about the price tag but the thought and care you put into the choice. So, whether it's a high-end timepiece, a cherished keepsake, or a simple, heartfelt gesture, the key is to convey your love and appreciation through the art of gift-giving. Your grandpa's smile will be the true measure of your success.
Selecting a thoughtful gift for your grandpa can be a wonderful way to show your love and appreciation. Here are some tips and tricks to help you choose the perfect gift for your grandpa:
Consider his interests and hobbies: Think about what your grandpa enjoys doing in his free time. Does he have a favorite hobby, such as gardening, fishing, golfing, or woodworking? Choosing a gift related to his interests can make it more meaningful.
Personalize the gift:Adding a personal touch can make a gift extra special. You could consider personalized items like a custom engraved photo frame, a monogrammed robe, or a personalized calendar featuring family photos.
Reflect on his needs: Consider any specific needs your grandpa may have. If he has mobility issues, items like a comfortable chair or mobility aids could be helpful. If he loves reading but has difficulty with small print, a large-print book or an e-reader with adjustable font sizes might be appreciated.
Nostalgia and memories:  Grandparents often appreciate gifts that evoke fond memories. This could include a scrapbook of family photos, a family tree chart, or even a recorded video message from family members sharing their love and memories.
Plan an experience: Sometimes, the best gift is an experience. Plan a special outing, like a day at his favorite museum, tickets to a sporting event, or a weekend getaway to a place he loves.
High-quality food or drink:Many people appreciate gourmet food or drink items. Consider his favorite type of wine, a gift basket of fine cheeses, or a subscription to a coffee or tea club.
Books: If your grandpa loves to read, find out his favorite genres or authors and choose a book you think he'd enjoy. You could also consider a subscription to an audiobook service if he prefers listening.
Tech gadgets: Some older adults enjoy technology. Consider getting him a tablet for easy video calls with family, a digital photo frame to display family pictures, or even a smart home device for convenience.
Comfort items:As people age, comfort becomes more important. Consider items like a cozy blanket, slippers, a heated massager, or a comfortable recliner chair.
Handmade or DIY gifts:Homemade gifts can be very meaningful. Create something special like a handcrafted photo album, a knitted scarf, or a batch of his favorite homemade cookies.
Subscription services:Gift him a subscription to a magazine, streaming service, or a monthly club that aligns with his interests, such as a puzzle-of-the-month club, a wine club, or a book club.
Ask for input: If you're unsure, don't hesitate to ask your grandpa for gift ideas or casually inquire about his interests during conversations to gather hints.
Spend time together: Sometimes, the best gift is simply spending quality time with your grandpa. Plan a visit or offer to help him with tasks he may find challenging.
Remember that the thought and effort you put into selecting the gift are what truly matter. Showing your love and appreciation through a heartfelt gesture will undoubtedly make your grandpa's day special.
Finding the Perfect Gift for Grandpa with  GiftPals.com 
As special occasions and holidays approach, there's always that heartwarming moment when you want to express your love and appreciation for your grandpa through a thoughtful gift. However, selecting the ideal present can be a challenge. That's where GiftPals.com steps in to make the process easier and more enjoyable.
Exploring GiftPals.com
GiftPals.com is not just another gift website; it's your ultimate companion when it comes to finding the perfect gift for your grandpa. This online platform is designed with a clear mission: to simplify the gift-giving experience while offering a wide array of options for all occasions.
The user-friendly interface and intuitive navigation make GiftPals.com accessible to all age groups, ensuring that even if you're not tech-savvy, you can easily find what you need. What sets GiftPals.com apart is its commitment to delivering tailored gift recommendations based on your grandpa's interests, age, and personal preferences. Gone are the days of generic gift shopping; now, you can discover unique and meaningful presents effortlessly.
How GiftPals.com Helps You Find the Best Gift for Grandpa
GiftPals.com is more than just a gift marketplace. It's your go-to resource for ensuring that your grandpa receives a thoughtful and cherished gift. Here's how it works:
Personalized Gift Recommendations: GiftPals.com employs sophisticated algorithms to provide you with personalized gift recommendations. Simply input your grandpa's details, and the website will suggest gifts that align with his hobbies, interests, and personality.
Curated Gift Collections:GiftPals.com understands that grandfathers have distinct tastes and preferences. That's why they offer curated gift collections tailored specifically for grandpas. Whether he's an avid gardener, a sports enthusiast, a history buff, or a tech geek, you'll find a collection that suits his passions.
User Experience and Convenience
One of the standout features of GiftPals.com is its user-friendly design. The website's intuitive layout ensures that you can navigate effortlessly through a vast selection of gift options. Filters and sorting options make it simple to refine your search based on price, category, or occasion.
But don't just take our word for it; the user reviews speak volumes. Countless individuals have praised GiftPals.com for its convenience and effectiveness in helping them find the perfect gifts for their loved ones, including their grandpas.
Why Choose GiftPals.com for Finding Grandpa's Gift
With numerous online gift shops available, why should you choose GiftPals.com to find your grandpa's gift?
Reliability:GiftPals.com is a trusted platform known for its reliability and commitment to customer satisfaction. You can shop with confidence, knowing that your gift will arrive on time and in perfect condition.
Variety:The website boasts a wide range of gift options, ensuring you'll find something that resonates with your grandpa's personality and interests.
Convenience:GiftPals.com's user-friendly interface and personalized recommendations make the gift selection process effortless, saving you time and stress.
Finding the perfect gift for your grandpa has never been easier, thanks to GiftPals.com. This innovative online platform combines personalization, convenience, and reliability to help you select a gift that will warm your grandpa's heart on any occasion.
Don't wait; visit GiftPals.com today and experience the joy of finding the ideal gift for your beloved grandpa. Make every moment with him memorable by giving a thoughtful gift that truly speaks to his soul.